This is a story that crosses continents and states.
This is a story of faith, art, creation, and vision.


Yaakov Merdinger, an international artist, the greatest silversmith of our time and the owner of Hazorfim Company, began his journey at the age of eight. Yaakov learned the trade from his father, Yossef Merdinger of blessed memory, who had apprenticed in the city of Chernivtsi, now part of Ukraine. At thirteen, he had already produced silver items which to this day are highly sought after and sold – the flower and windmill shaped Havdalah spices containers (Besamim). Still going strong and keeping the tradition, Yaakov founded Hazorfim and promoted this complex and creative craft to a level of pure art.
And the story of Yaakov Merdinger continues. Getting closer to Jewish tradition, Merdinger discovered Jewish writings and its infinite treasure of wisdom and depth. Judaism became a source of endless inspiration and new-found creativity. Having produced thousands of items under the Hazorfim brand, Yaakov decided to gather the best silversmiths into one magnificent choir of talents he could mentor and conduct.
And this is how the silvers craft private and international studio Y. MERDINGER GALLERY was founded. The Y. Merdinger Gallery features select artwork. All items are one-of-a-kind and numbered. Each piece has its unique story and its own source of inspiration. Each Y. Merdinger Gallery piece of silver is the fruit of months of pure silver-craft; from the idea and the preliminary sketch, to the design and chosen style, all with meticulous attention to every detail. An intricate handmade masterpiece.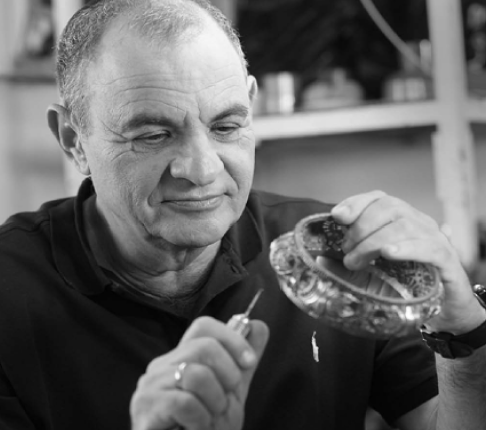 "As the silver in the hand of the silversmith, at his will he spoils it
and at his will he purifies it at will" (Kol Nidrei)