Royal Liquor Tray Sterling Silver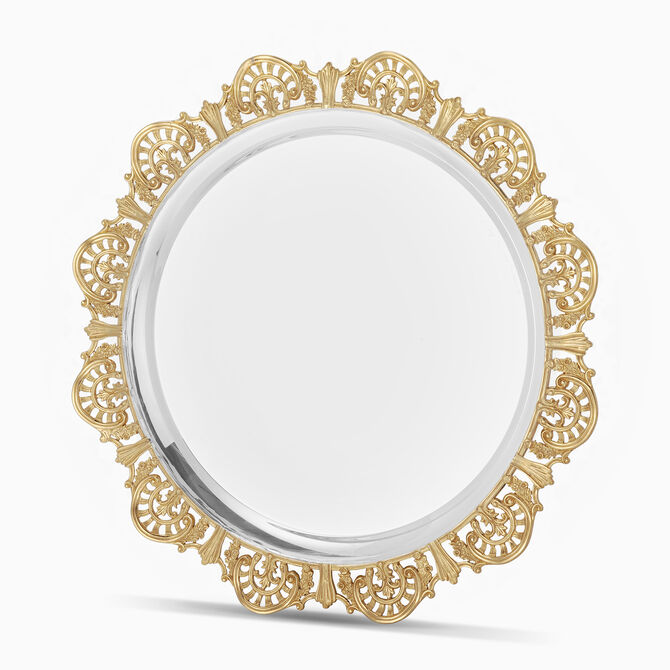 Brand:
HAZORFIM GALLERY Y.M
Material:
Sterling Silver 925
---
Hazorfim's elegant silver trays adorn our store windows in Israel and around the world. The classic look of a sparkling, shiny silver tray captures the heart. Hazorfim's silver trays are made of high quality sterling silver and are available in a variety of designs. Our expert silver artists took their inspiration from a variety of styles in modern art to create beautiful silver trays adorned with delicate engravings and wonderful decorations. You are invited to view the impressive results- a stunning collection which is available in styles and designs to suit every occasion. 51877-1515
Our aim is to deliver your purchase as quickly as possible. All orders have a processing time of 24-72 hours if the merchandise is in stock; excludes holidays and weekends. During the holiday season, orders have a minimum processing time of 3-7 days. In case of backordered items your shipping invoice will reflect which items are pending and the whole order will be shipped together as soon as they become available, therefore items ordered together will be shipped together unless otherwise requested. The approximate shipping cost for your order will be added and displayed at checkout. GST & DUTY: Shipments outside of U.S. may be subject to GST, Duty, and any other fees levied by the country, province or carrier. Unless specifically exempted, the customer will be responsible for these fees upon delivery. SPECIAL NOTE: ·       Signatures are required for the receipt of all packages. ·       We do not ship to PO boxes. *Please note: Hazorfim.com will not be responsible for delivery delays due to unforeseen circumstances beyond our reasonable control, such as delays due to severe weather, natural disasters or strikes. INTERNATIONAL SHIPPING To place an international order (outside the USA and Canada), customers have several available options. To learn more, click here to visit our International Shipping Page.